Children in Kindergarten continue with elements of Montessori learning, in conjunction with a more traditional elementary approach to education. In contrast to the Early Program, children in Kindergarten are the same age.
| Start Time | End Time |
| --- | --- |
| 8:30am | 3:30pm |
| 8:30am | 5:45pm |
The daily schedule in Kindergarten is divided between open-ended activities, and the directed group instruction that is typical from Kindergarten onward. The children learn to complete assigned tasks within a specific time frame, while enjoying the creative play and exploration that are such important parts of the natural learning process at this age. Important skills such as listening, expressing themselves, working independently, collaboratively, and behaving responsibly are continuously reinforced.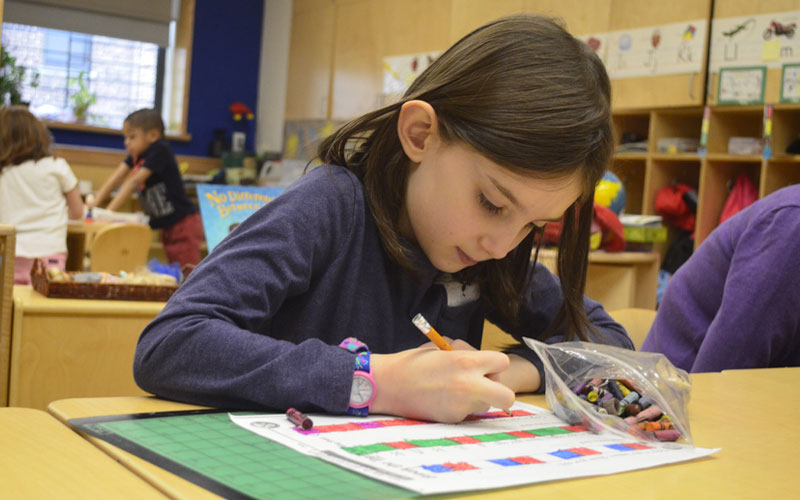 With great flexibility, teachers are able to tailor their instruction to the individual learning styles and levels of each child. In language arts there is a deliberate emphasis on the teaching of reading and writing, while in math the primary goal is to understand number concepts and introduce the enjoyment of problem solving. Our Kindergarten students are offered the following specialist classes: Spanish, Technology, STEAM, Library, Technology, Art, Violin, Music, P.E. and Yoga. As with other classes in the Elementary Program, the classroom teachers maintain close communication with the specialist teachers to ensure continuity and connections among the various classes.