4.8 - 5.11 years old
Montessori-Inspired Kindergarten on the Upper East Side
Kindergarten students at Caedmon experience elements of Montessori learning, in conjunction with a progressive elementary approach to education. In contrast to the Early Program and Preschool, children in kindergarten are the same age.
| Start Time | End Time |
| --- | --- |
| 8:25am | 3:30pm |
| 8:25am | 5:45pm |
---
Structured Learning for 5 Year Olds
Kindergarten plays a crucial role in a child's early education and development. At Caedmon, kindergarten combines elements of Montessori learning with a progressive elementary approach to education, providing a structured environment where children can interact with their peers, learn to share, take turns, and develop essential social skills.
Kindergarten at Caedmon is for children ages 4.8 - 5.11, and our curriculum is designed to foster physical, cognitive, social/emotional, and moral and ethical development and growth. Through open-ended activities and directed group instruction, children are prepared to enter into First grade and thrive.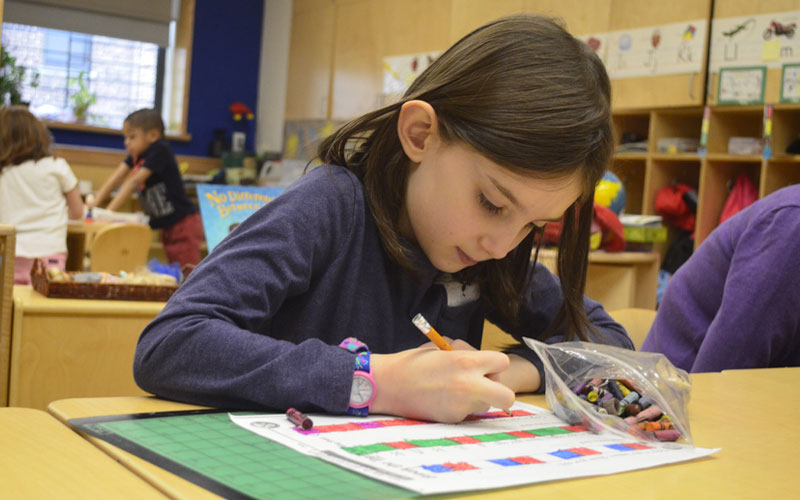 ---
Kindergarten Curriculum
The benefit of an independent school is the wide range of flexibility. With a student to teacher ratio of 8:1, teachers are able to tailor their instruction to the individual learning styles and levels of each child. Through various classes of language arts, math, science, and art, children are exposed to the basics of learning while having fun at the same time.
---
Core Classes & Concepts
Language Arts - an introduction to basic literacy skills like letter recognition, phonemic awareness, and sight words.
Math - recognizing numbers, counting, shapes and patterns, measurements, and an early introduction to STEM
Science - exploring the natural world and learning about plants, animals, weather, and seasons
Physical Education - developing physical coordination through activities and movement like running, jumping, and playing games
Foster Creativity - drawing, painting, singing, dancing, and playing instruments
Social & Emotional Skills - learning how to understand and manage emotions, empathy, and talk and interact with peers and resolve conflicts
Life Skills - fostering independence and learning about healthy habits, nutrition, how to clean up after themselves, use the restroom, and instill good self-care routines
At Caedmon, we also offer specialist classes in Spanish, Technology, STEM, Library, Technology, Art, Violin, Music, P.E. and Yoga.
---
Frequently Asked Questions
What age should my child start kindergarten?
The Caedmon Schools considers children for kindergarten who are 4 years eight months of age by September 1 of the year they start kindergarten (i.e., children must turn 5 years of age by December 31 of their kindergarten year).
Is 5 years old too late to enter a Montessori school?
5 is a great age to begin a Montessori program, as the skills that are gained help our students to become confident, enthusiastic and self directed learners. They are able to think critically, work collaboratively, and act boldly–an important skill set for the 21st century.
What supplies does my child need for kindergarten?
At The Caedmon School we supply everything the students need, including pencils, backpacks, chromebooks and more.
What is the homework policy for kindergarten at Caedmon?
In kindergarten our homework policy is for students to read or be read to at home for 20 minutes daily.
What resources are available for students with special needs or learning differences at Caedmon?
We have a school psychologist on staff who works closely with faculty and students. We also have a Student Support Coordinator who helps families seek additional support when necessary, and a Reading Specialist who works with students in grades K-5.
Is Caedmon kindergarten full day or half day? What are start & end times, what is a typical school day like?
Kindergarten at The Caedmon School is a full-day program, running from 8:25 a.m. until 3:30 p.m. A typical school day would include daily morning meetings, language arts, social studies and math which take place in the first half of the day. After lunch and recess the students will head to specialist classes which include Spanish, Art, Science, Violin, P.E., Music, Library, Yoga, and Technology.
Kindergarten students are also paired with a Fifth grade Book Buddy for the duration of the school year. As a heart-warming tradition at our Closing Ceremonies in June, kindergarten students offer their words of advice to their Fifth grade Book Buddies.
How do I enroll?
Click here to learn more about our Kindergarten Admissions Process.
How can I prepare my child for kindergarten?
Students entering Caedmon's Kindergarten program do not need to come from a Montessori preschool. In order to help prepare enrolled students for our program, in the spring we offer a series of Kindergarten Readiness classes to make sure that children have the skills needed to feel confident as they transition into the grade.