The Caedmon School is a Montessori Preschool and Progressive Montessori Elementary School on the Upper East Side of New York City, serving children from one year, eight months through Fifth grade.
As the first Montessori school in New York City, Caedmon's tried and true methods encourage children to discover who they are in an environment that values care and empathy. Our graduates go on to excel in the finest independent and public middle schools in NYC and beyond.
School Hours
Early arrival options for all grades
8:00am - 8:30am Monday to Friday
Beginners (1.8 - 2.9 years old) - Monday to Friday
8:35am - 11:35pm
8:35am - 3:15pm
8:35am - 5:45pm
Early Program Threes (2.10 - 3.9 years old) - Monday to Friday
8:30am - 11:30pm
8:30am - 3:15pm
8:30am - 5:45pm
Early Program Fours (3.10 - 4.11 years old) - Monday to Friday
8:30am - 11:30pm
8:30am - 3:15pm
8:30am - 5:45pm
Kindergarten - 5th Grade - Monday to Friday
8:25am - 3:30pm
Daily Offerings and Special Programs
Healthy snacks and a nutritious lunch prepared by our chef and her team are provided. We provide daily, outdoor playtime for all students in our private playground. A vast selection of enrichment classes and music lessons, as well as general after school care, are offered through our Afternoons@Caedmon program. The school offers childcare during parent/teacher conferences as well as for some evening school events.
Summer Camp
6 weeks, ages 2.8 – 12
Find out more information on our Discovery Camp!
Accreditations
The Caedmon School is a proud member of the Independent Schools Admissions Association of Greater New York (ISAAGNY).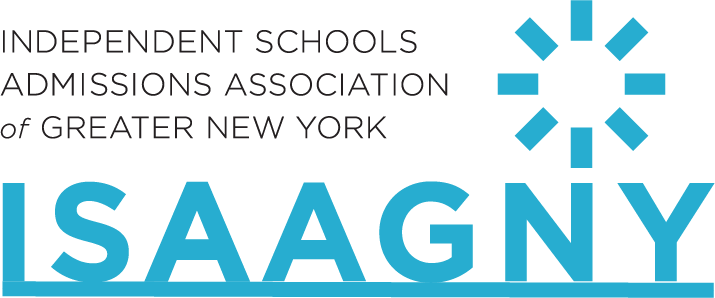 Founded in 1965, ISAAGNY aims to ensure orderly, professional, and equitable admissions processes at member schools: we do so by observing a shared admissions timeline, engaging in professional development to hone our collective craft, exchanging resources and best practices, and more. The resulting spirit of cooperation serves schools, families, and nearly 30,000 students across greater New York.
Caedmon's additional accreditations include the National Association of Independent Schools (NAIS), The Parents League, Educational Records Bureau (ERB), American Montessori Society (AMS), The Guild of Schools, and Early Steps.