We want to make a Caedmon education accessible! Our Flexible Tuition Program is an example of our devotion to a socioeconomically diverse community at The Caedmon School. It is Caedmon's version of financial aid.
WHAT IS FLEXIBLE TUITION?
Flexible Tuition allows us to share our amazing curriculum and approach with families who would otherwise not be able to attend.
Our Flexible Tuition Program aims to enhance our school community with a socioeconomically diverse student body, which is at the core of our mission.
We started offering Flexible Tuition in 2017 because we know that the financial needs of families vary.
Our Flexible Tuition budget is derived from a percentage of gross tuition revenue.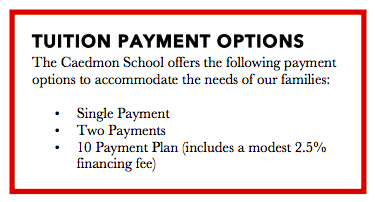 ---
WHO QUALIFIES FOR FLEXIBLE TUITION?
Many families who feel they may not qualify for traditional financial aid may very well qualify for reduced or Flexible Tuition.
We encourage families to apply for Flexible Tuition if they feel they may qualify.
---
HOW TO APPLY FOR FLEXIBLE TUITION
Families are required to notify The Caedmon School if they plan to apply for Flexible Tuition (there is a box to check on the application for admission).
An application for Flexible Tuition called Parents' Financial Statement or PFS is available through School and Student Services (SSS). Here is a document to help you complete the application.

The application for the following school year must be completed by current Caedmon families by November 30, 2023, and required documentation must be submitted no later than December 4, 2023.
The due date for the PFS for new Kindergarten and Elementary applicant families is Friday, December 8, 2023, with accompanying documentation due on December 15, 2023.
The due date for the PFS for new Beginner and Early Program applicant families is January 10, 2024, with accompanying documentation due on January 11, 2024.

We ask that single parents complete and submit the Caedmon Parent B Waiver via email to Jennifer Tarpley-Kreismer by the SSS due date (see above).
The Caedmon School will receive a report from SSS and the Flexible Tuition Committee will review all applications to make determinations of how Flexible Tuition funds will be distributed. Most qualifying families will receive assistance.
For new families, the Flexible Tuition award will be reflected in the contract accompanying the letter of acceptance. Flexible Tuition awards for returning families will be posted in the contracts that families receive in January 2024.
---
From Our Families...

By offering Flex Tuition, Caedmon has once again demonstrated their commitment to all children and their families. Caedmon has been unbelievably understanding of our financial challenges and has gone out of their way to tailor a financial aid package and payment plan to suit our family's needs. I am forever grateful.
From Our Families...

"We are so appreciative of the support we receive from the Flexible Tuition program. It makes it possible for our family to be a part of the Caedmon community. As parents, we all want the best resources and the best match in terms of pedagogical approach for our children. Because there is support for tuition that takes our financial situation into consideration, we are free to have access the best educational opportunities for our children."
From Our Families...

"Flexible Tuition encourages families from diverse backgrounds to apply to and attend Caedmon, resulting in a rich and diverse learning environment for everyone. Our son absolutely loves going to school at Caedmon. He is challenged and encouraged, making good friends, and getting the best education possible. Without Flexible Tuition he would not have this opportunity. Thank you!"
From Our Families...

"We've been raised to value education and have always envisioned more for our children than we had. If it weren't for the Flexible Tuition Program, we would not be able to afford an outstanding education for our children. The plan and the funding allow us to live within our means while providing our children with amazing opportunities. We are forever grateful for this program and cherish the opportunities given. We hope this program continues to expand in order to provide for more families like ours."
From Our Families...

"Flex-Tuition has been a lifesaver for us in that it has allowed us to place our child, who is often extremely overwhelmed in traditional classrooms, in an environment where she is thriving. It's allowed us, as a family, to be a part of a community where we strive to give back as much as we have gotten from this experience."
From Our Families...

We are so grateful to Caedmon for its flexible tuition program. Despite being solidly in the middle class, there is no way we could afford to send our girls here without such assistance. We are so fortunate to be able to give them this opportunity.