Get to know more about The Caedmon School! We're happy to speak with you about what we have to offer your child.
Want to hear more about the Caedmon experience?
Click here to connect with a current parent!
To Our Prospective Families,
Thank you for your interest in The Caedmon School, where we celebrate and value childhood! Caedmon offers an early childhood through Grade 5 educational model for ages 21 months through 10 years and an incredibly diverse and welcoming community.
As the first Montessori school in Manhattan, our early childhood teachers are Montessori certified and serve as facilitators in our multi-age classrooms that are bright with sunlight and natural wood, and filled with engaging Montessori materials.
In the elementary years, our Montessori-inspired approach incorporates Montessori values with a personalized education and a curriculum that develops independence, imagination, and a sense of agency through inquiry, deep thinking, and active exploration. Our faculty is equipped with the training and experience to provide just the right mix of warmth and challenge to optimize learning for each student.
We invite you to get to know more about our philosophy and approach to education and meet members of our community through a Tour & Panel Discussion and/or our Open House. At the Tour & Panel Discussion, you'll have the opportunity to speak with me, our Head of School, our Head of Program, and a current parent and to see our beautiful, light-filled classrooms. At the evening Open House, you'll hear directly from our students, teachers, and parents and participate as a student in sample lessons.
Please join us to get a sense of our community and how we work with children via one of our informal sample Curiosity Classes or Saturday Community Story Times.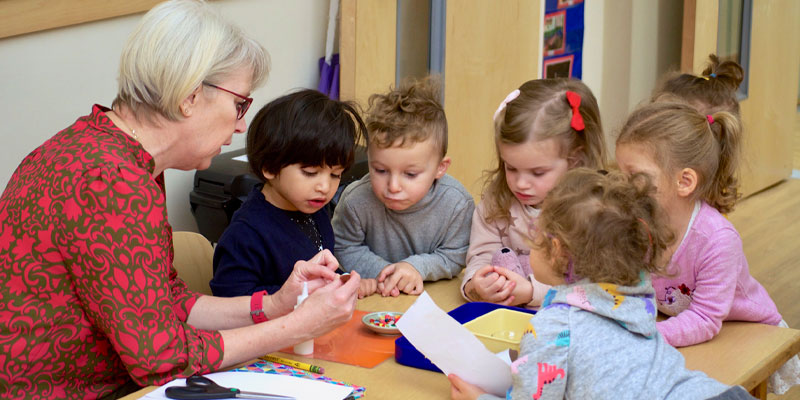 Given the pandemic and the uncertain and shifting nature of the safety measures, our admissions events during Fall 2021 and Spring 2022 are scheduled and will be held on the dates indicated. As we have more clarity, we will be in contact to confirm whether they will be held remotely, if necessary, or in-person, if possible.
Either way, these events will allow you to see and hear for yourself the joy in learning that our students experience every day. There is no need to apply before scheduling any of these events. If you are interested in our preschool programs, please register for any of these events or activities through our Ravenna Hub.
For those interested in our Kindergarten and Elementary Programs, please register for our Open House, Curiosity Classes, and Community Story Times through our Ravenna Hub. You will be contacted by our Admissions Assistant, Susan Bonet, to arrange a time in the fall for your Parent Interview, Tour, & Panel Discussion once we receive your inquiry and/or application. Please complete our inquiry form below.
We look forward to getting to know you and your child in the coming months!
Warmest regards,
Jennifer Tarpley
Director of Admissions
tarpley@caedmonschool.org
212.792.7457
Susan Bonet
Admissions Assistant, Assistant to the Head of School
bonet@caedmonschool.org
212.879.2296, extension 307